UniTorque Direct Drive Technology
Advanced drive technology, where the motor is integrated directly into the coiler housing, providing high torques and high drive stiffness combined with a compact design.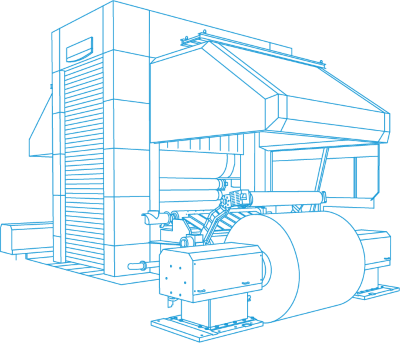 A holistic approach.
Torque motors, so-called direct drives, represent a new development stage in the drive technology of industrial plants and drive machines without using a transmission elements.
Providing large torques in a very small space and offering a multiple of dynamics as well as energy-saving potential, the direct drive technology makes sense in any case with a view to optimizing productivity and efficiency.
The Achenbach UniTorque is now also available for Achenbach OPTIMILL® Foil Rolling Mills.
Normally, the coilers in a rolling mill are nowadays driven either by one or two asynchronous motor, a transmission gear box and couplings incl. a mechanical brake for standstill and emergency cases.
By applying the direct drive technology this is drastically changed. The rotor is directly fixed to the coiler shaft, and the stator of the motor is mounted in the coiler housing. Even the bearings of the motor can be omitted by using the rigid and precise designed coiler bearings.
In emergency cases and during a longer standstill the motor is decelerated respectively locked by short-circuiting the motor windings.
High torques and high drive stiffness
Excellent controllability in all power ranges
Significant cost savings and lower space and maintenance requirements
Stiff and highly dynamic drive train with zero backlash
Higher energy efficiency due to reduced friction and improved motor efficiency
Higher occupational safety due to reduction of noise emission and injury risks
Contact us directly. Our team is available for you.
To move forward in a modern economy, we need to step up the speed together.