Achenbach is an independent family-owned company looking back on more than 570 years of history.
Today, Achenbach is a global provider of non-ferrous metal rolling mills with rolling oil and automation systems as well as foil slitting machines for winding, separating, and slitting thinnest metal foils and converting material. Following the company's philosophy 'everything from one single source' the machines are designed, manufactured, and assembled at Achenbach.
Service & Support is provided through their entire operating life cycle. The range of products comprises turnkey production plants, machinery lines, single machines, or selected technology components.
The cloud-based platform Achenbach OPTILINK® opens the way to the overall system networking of the various value creation stages and therefore to the optimization of the entire production process.
The modernization of Achenbach machines and third party machinery completes the range of products.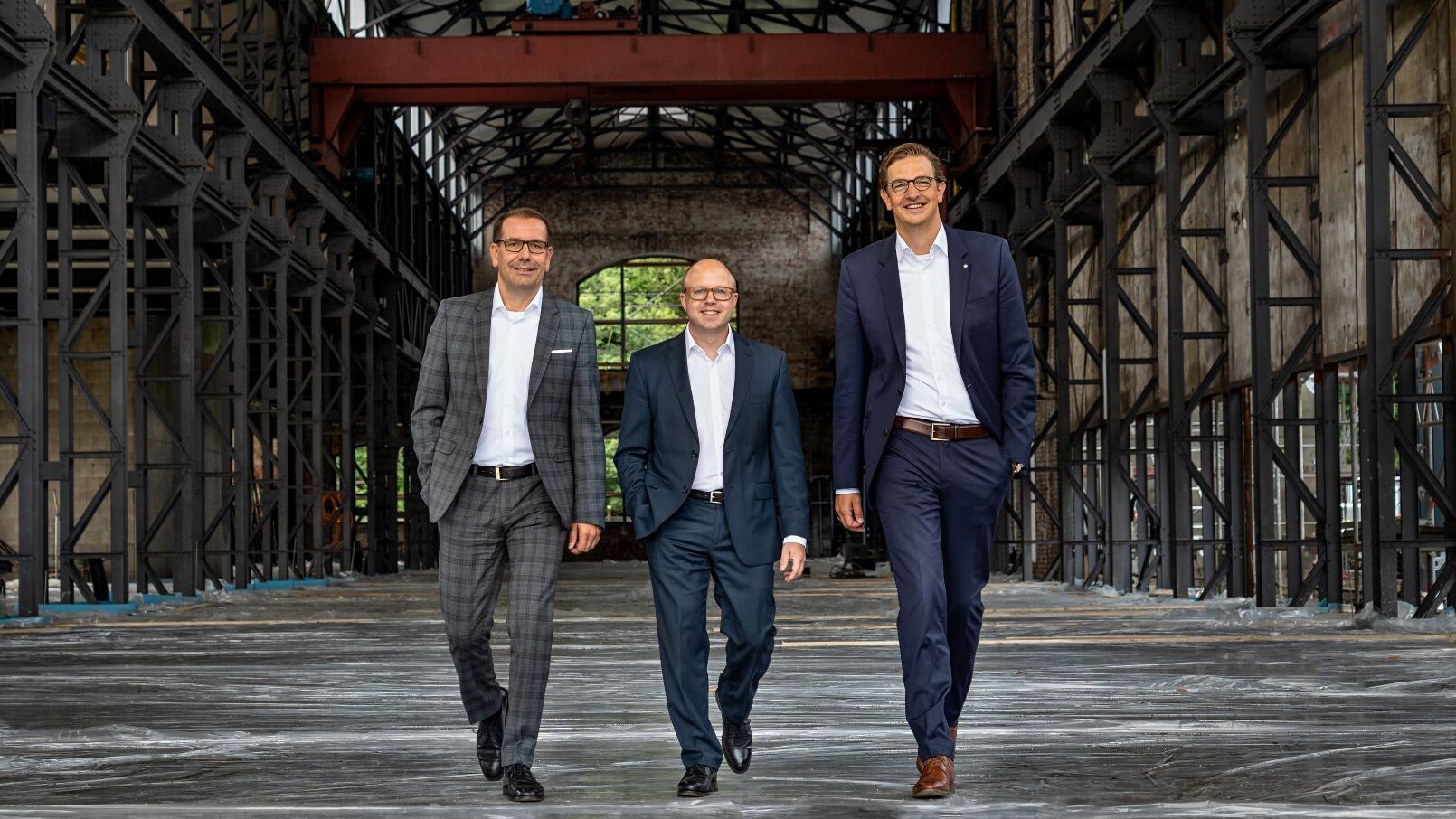 Udo Krämer (CFO), Sebastian Groos (COO), André E. Barten (President & CEO)
local market
In January 1452, a waterwheel-driven Hammer Mill is founded at the rivers of the Ferndorf creek. As hammermen the three Busch brothers convert charcoal reduced pig iron into forgeable iron. According to their name the surrounding village is called: Buschhütten.
Forgeable iron bars are sold to finish forgers to make products for household, trade and agriculture, household tools like tongs, shovels, scythes, chops and agricultural equipment like hammers, anvils, and plows.
regional markets
The Achenbach Iron Foundry starts its operation after the Achenbach brothers had bought the hammer mill and convert it to iron casting technology. From then on, iron parts can be produced in a much simpler way by casting. Casting liquid iron into sand molds gets only possible with the availability of hard coal in the area.
Cast iron products primarily for household and agriculture and later for industry like column ovens, oven plates, stoves, gear wheels and rolling mill rolls.
national markets
Achenbach becomes Rolling Mill Builder: the first Achenbach Rolling Mill results out of the assembly of rolling mill components which are anyway casted in the iron foundry like rolls, stands and gears. Primarily sheet mills are produced and later after the invention of coilers by Achenbach engineers: strip mills.
Rolling mills for metal sheets and later metal strips: Iron rolling mills, and later: Aluminium rolling mills, copper & brass rolling mills.
international markets
Achenbach becomes Specialist among the Rolling Mill Builders by concentration on the special requirements for rolling mills for non-ferrous metals with a big amount of R&D work. Caused by the growing importance of process technology and environment protection the product range is complemented by new rolling oil filtration systems and exhaust air purification systems.
Rolling mills for non-ferrous metals for strips and later on foils; non-ferrous metals rolling mills: 'wider, faster, thinner rolling', integration of rolling oil filtration and exhaust air purification systems operating economically and ecologically highly efficient in closed loop processes.
world market
The System Provider Achenbach is 'Specialist' and in substantial parts 'World Market Leader' in the development and provision of machines and technologies for flat rolling and foil slitting of non-ferrous metals. For this purpose, the product range is successively extended by rolling mill automation technology, foil slitting machines and recently by an IoT platform for the optimization of the entire production process.
'All from one single source' equipment for the production of rolled and slitted non-ferrous metal strips and foils, horizontally along the value-added chain and vertically by the increase of value-added depth; complete production plants from 'Mini-Plants' up to 'Greenfield Plants' by use of a digital process data network (IoT), single machines, machinery and plant modernizations, machine components and spare parts.
Active in 60 countries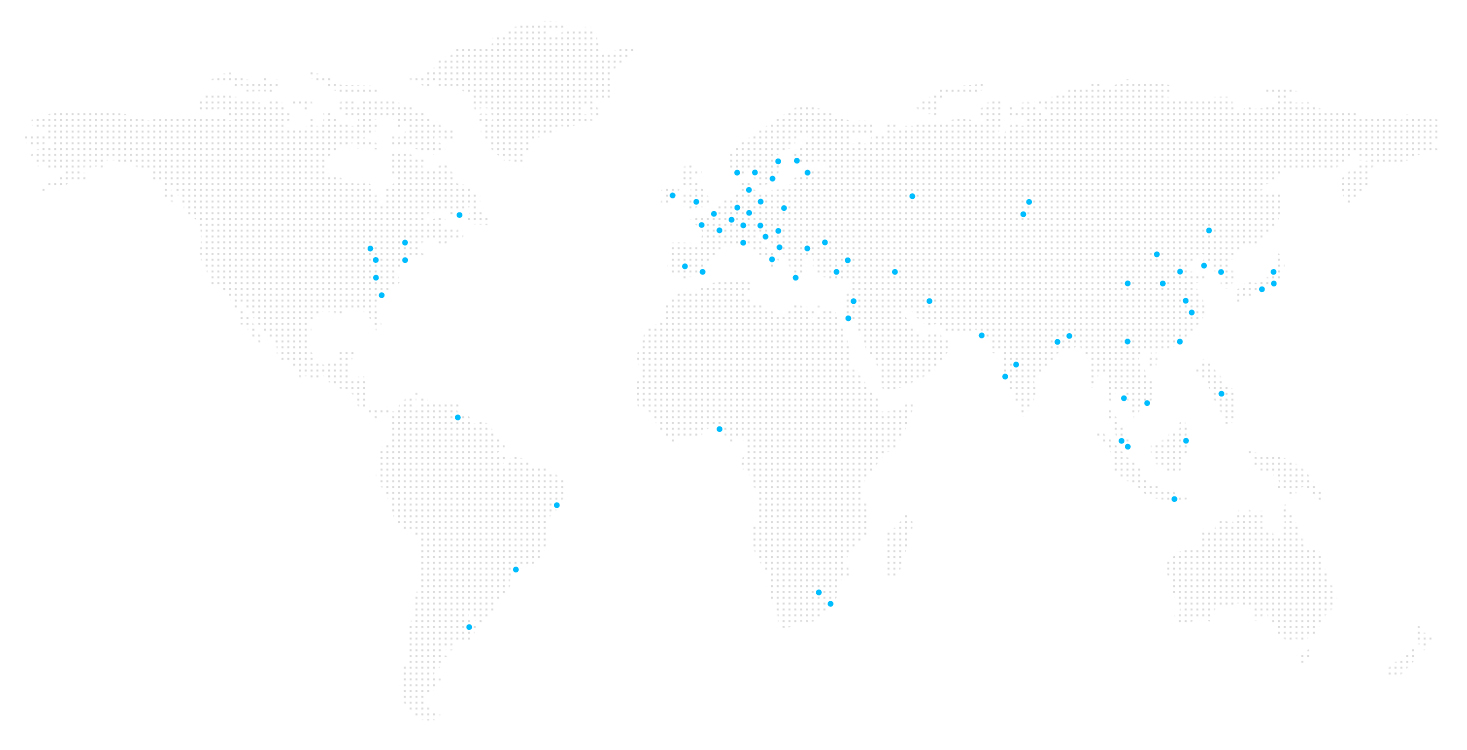 Technology for Future Concepts
The guideline in every project and in the development work is the mission statement 'Techology for Future Concepts': Achenbach has the technology to realize its customers' future ideas for the production of first-class rolling and slitting products with most modern tailor-made machinery.
With our commitment Green.Lean.Digital. we are setting clear signals towards future challenges. Achenbach has set out to sustainably increase the customer's benefit and thus his competitiveness on the basis of future-oriented solutions.
Further information about Achenbach
Contact us directly. Our team is available for you.
To move forward in a modern economy, we need to step up the speed together.