UniRon Ironing Rollers
Part of the Achenbach product range for rolling mills are various types of ironing rollers ensuring wrinkle-free recoiling of the strip.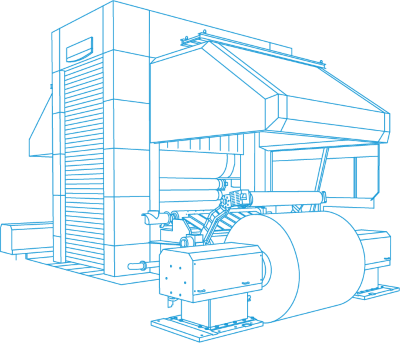 A holistic approach.
The UniRon ironing roller is therefore applied to the coil in the recoiler with an adjustable force, which secures wrinkle-free recoiling of the strip.
At the same time, the air between the layers is pressed out to guarantee the solid, straight, and non-oscillating winding.
The Achenbach UniRon® Ironing Roll System is developed as:
Single ironing roller
Double ironing roller
Coated ioning roller
Uncoated ironing roller
Combination of different ironing roller lengths
Quick-change facility
Foil rolling mills are provided with a single rubberised ironing roller. In thin-strip and universal foil mills, this basic design can be improved by a double ironing roller system: Changeover of the rolls for exchange is automatically effected by hydraulic swivel motors.
The outstanding benefit of the double ironing roller is the combination of a coated ironing roller with a non-coated ironing roller. While the uncoated and less sensitive ironing roller is preferably used for roughing passes, the coated ironing roller is applied for finishing passes.
By means of this combined usage, the high-quality coating of the rubberized ironing roller is saved during passes with thick material to be rolled. As the double ironing roller system allows for using ironing rollers having different lengths, this system is also used when the strip width is changed quickly or in case of different spool lengths.
Constant contact point throughout entire coil build-up
Rigid axis, circumferential sleeve, self-aligning slide bearings for tilting compensation

Uniform winding structure throughout the entire coil diameter; no coil telescoping during deceleration

Setting by hydraulic cylinders, damping by pneumatic cylinders

Wear-minimized ironing roller operation by double ironing roller design
Contact us directly. Our team is available for you.
To move forward in a modern economy, we need to step up the speed together.