UniHeat Curved Hot Edge System
Inductive heating technology to optimize strip flatness at the edges.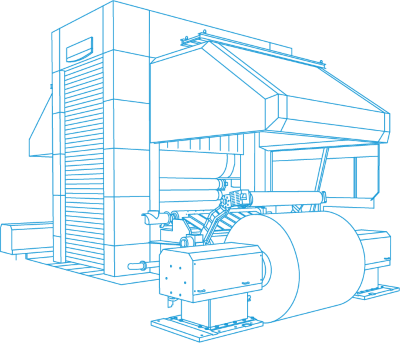 A holistic approach.
For all rolling mills, the thermal barrel may severely decrease beyond the strip edges due to a lack of forming energy, which in turn can cause high tensile stresses at the strip edges.
In this area it is necessary to partially heat the work rolls, otherwise the high tensions may cause strip breaks that reduce production amount and profitability of the mill.
Using the UniHeat Curved Hot Edge System, occurring flatness deficiencies can be eliminated by heating the roll inductively.
In the transition areas at the edges of the rolled material a minor thickness reduction leads to a higher tension or so called "tight edges", which may cause strip break. Using the UniHeat Curved Hot Edge System to eliminate flatness deficiencies, the heat is inductively generated directly in the roll.
The inductive heating system is located at the exit side of the mill. Attached to the upper splash guard it is perfectly located to install the induction headers with the incorporated field coils very close to the upper work roll.
The induction headers can be moved by a similar positioning system independently, exactly to the edge area where the work roll needs to be heated.
Inductive system to reduce tensile stresses at the strip edges in a very fast and accurate way
Heating only influences the area of high strip tension due to exact positioning of induction heads
Less risk of strip breaks which can lead to reduced production amount and profitability
Less energy consumption due to precise heating
Contact us directly. Our team is available for you.
To move forward in a modern economy, we need to step up the speed together.