UniDry® Strip Drying Systems
For the control of strip flatness in the rolling process, strip drying is of key importance.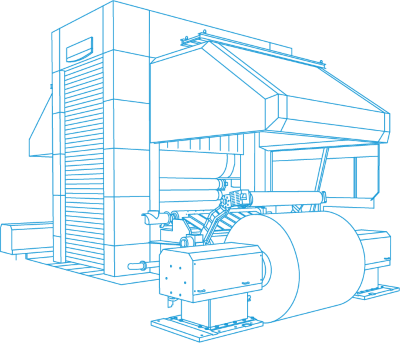 A holistic approach.
For non-ferrous metal rolling mills, strippers and strip or roll blow-off systems are required, which are tailored to the respective type of rolling mill.
Minimizing oil losses effected by the outrunning strip is a key factor to reduce the operating costs in the production of strip, thin strip, and foil.
There are considerable saving potentials, which could be raised by using the Achenbach technology for strip drying.
A combination of strippers and blow-off systems patented by Achenbach ensures as an integrative system a minimum of rolling oil residuals on the strip surface. These integrative systems are adapted to the respective type of rolling mill and optimised during commissioning.
Besides minimising the residual oil amount a further benefit of Achenbach strip drying technology consists of ensuring its equal distribution, which in turn significantly contributes to reducing the annealing times of the coils if applicable.
For each rolling mill type and each production programme, strictly spoken for a wide variety of strip thicknesses, strip speeds, and strip widths the Achenbach system can be adapted in order to reach optimum results with respect to surface dryness.
High-class drying efficiency
Suited for any strip width
Applicable for the entire speed and thickness range of a rolling mill
Easy operation
Retrofittable as partial or overall system due to its modular design
Semi- and fully automatic functional sequences
Robust design
Contact us directly. Our team is available for you.
To move forward in a modern economy, we need to step up the speed together.