Resources-Efficiency-Check
The resources efficiency check is a support package, which is to assist companies with existing machinery to operate their rolling oil systems more efficiently regarding resources and efficiency.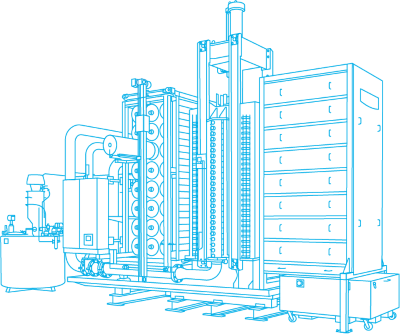 A holistic approach.
Being the worldwide leading manufacturer of rolling mill machinery and foil slitting machines, Achenbach developed technological solutions, which combine economical with ecological efficiency. This is fulfilled to a great extent by all Achenbach OPTIPURE® Systems of the latest generation: Achenbach SUPERSTACK® II Systems for Microfiltration Of Rolling Oil, Achenbach AIRPURE® for Exhaust Air Purification and Achenbach ROILPURE® for Rolling Oil Rectification.
High efficiency losses are recognized, if systems for exhaust air purification, rolling oil microfiltration, and rolling oil rectification are not adjusted in a proper way. This leads directly to increasing energy and operational cost.
Take the opportunity to realize an efficiency enhancement of up to 30% for your oil systems by a professionally effected resources efficiency check. Nevertheless, the effective savings potential is depending on age and condition of the respective equipment.
The aim is an efficiency enhancement of the resources and efficiency use in mill operation either by optimization measures or an upgrade of systems and components.
Achenbach AIRPURE® Exhaust Air Purification system: Up to 30% efficiency enhancement by upgrading the scrubber technology, by optimized heat recovery or additional exhaust air flow control.
Achenbach SUPERSTACK® II Filtration System: Up to 25% efficiency enhancement by hoseless filter plate technology and consumption-optimized control systems.
Achenbach ROILPURE® Rectification System: Up to 15% efficiency enhancement by enhanced heat recovery by optimizing operation parameters or by using improved vacuum components.
The modular resources efficiency check is to reliably assist the operator to sustainably operating the machinery resource- and energy-efficiently. The focus is on consulting, comprising analysis and proposal for solution and realization from a single source:
Survey
Analysis
Optimization/ Upgrade
Sustainability
Contact us directly. Our team is available for you.
To move forward in a modern economy, we need to step up the speed together.