Dynamic Variable Crown (DVC) Rolls
System
Additional actuator to influence the strip flatness.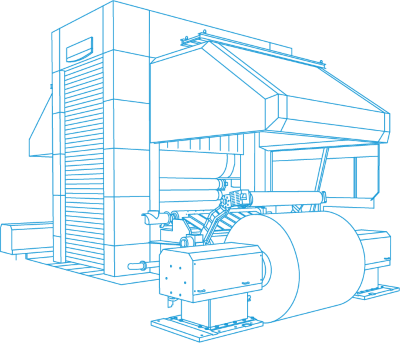 A holistic approach.
Of utmost importance for the quality of the rolled strip is the flatness, which is precisely measured by the UniFlat Flatness Measuring Roll. During the rolling process the strip flatness can basically be influenced via the active bending of the work rolls and the control of the thermal profile.
The application of a DVC backup roll, which typically replaces the top back-up roll, is (besides other features) an additional actuator to achieve a faster and more continuous influence on the strip flatness.
Based on the positive effects, the DVC Roll can achieve a significant productivity increase of the rolling mill.
The Achenbach OPTIMILL® DVC Roll, which is installed instead of the top back-up roll, is hydraulically actuated and allows a highly precise and dynamic change of the barrel contour during the rolling process. This ensures an optimal influence on the flatness of the rolled product. During the rolling process with open or closed roll gap the DVC Roll represents an active actuator.
Due to the changed barrel contour of the back-up roll, good strip flatness can even be achieved when the optimum temperature of the work roll barrels has not yet been reached. The implementation of the DVC Roll also reduces the number of necessary grindings of the work roll barrel. Moreover the DVC Roll is generally able to compensate the wear of the back-up roll barrel to a certain extent, since the DVC Roll has a longer service life than conventional back-up rolls. All in all it can be pointed out that the installation of an Achenbach DVC Roll instead of a top back-up roll in strip, thin strip and foil rolling mills will provide more flexibility and productivity.
An additional actuator for the flatness control system
Reduced number of work roll grindings
Higher productivity in the rolling production
Contact us directly. Our team is available for you.
To move forward in a modern economy, we need to step up the speed together.