Contact Rollers
Part of the Achenbach product range for Achenbach OPTIFOIL® Slitting Machines is the option to combine a variety of different contact rollers.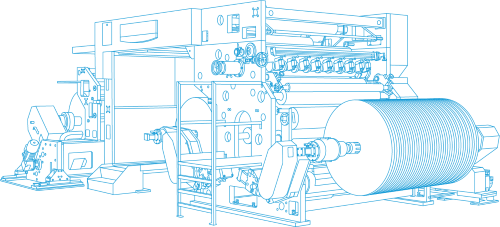 A holistic approach.
Contact rollers are used in all OPTIFOIL machines and serve for achieving wrinkle-free and even winding results throughout the entire diameter range during continuous operation. The positioning is effected by a hydro-pneumatically operated diaphragm cylinder.
For small slitting widths at high rewinding diameters, a single contact roller system is recommended to secure the desired rewinding result for each and every foil strip. The single contact rollers are therefore spring-loaded.
Continuous contact rollers
Single contact roller system
Rubberized contact rollers
Chromated contact rollers
Single-side motorized contact rollers
Changing devices for a user-friendly change of the contact rollers
The slitted material strips are guided to the rewinder via the contact roller, which is hydro-pneumatically set up against the rewinder with diaphragm cylinders and pushed back with increasing winding diameter.
The single contact roller system consists of many single rolls, which are fastened on a pneumatically operated clamping shaft. They can be individually positioned for each slitting program. Each single contact roller is operated independently and is applied singly on the finish roll. During the entire winding operation, a constant contact pressure onto each and every finish roll is assured. For continuously shifting the entire unit, the whole system of the single contact rollers is mounted to linear guide rails and operated electromechanically.
Continuous contact roller in single operation, in combination with a single contact roller system or exclusively single contact roller use
Controlled contact pressure
Operator-friendly roll change
Easy roll positioning
High realiability in continuous operation
Contact us directly. Our team is available for you.
To move forward in a modern economy, we need to step up the speed together.