Achenbach CONDUSENS® Conductivity sensor
The Achenbach CONDUSENS® is a preventive alarm system that signals the risk of fire by uncontrolled electrostatic discharges and, by constant monitoring the rolling oil quality, controls the filtration process.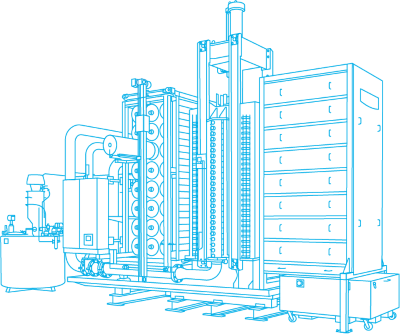 A holistic approach.
Achenbach CONDUSENS® monitors the long term stability of the rolling oil used, which in turn is a precondition for stable rolling parameters and an efficient rolling process.
Preventive fire protection
Continuous monitoring of rolling oil quality
Reduction of the antistatic additives used through automated minimum metering (ConduActive antistatic dosing system)
Monitoring of filtration efficiency
Sensor for optimum filter aids dosing
Determination of the reactivity of activated celluloses
Achenbach SUPERSTACK® II Rolling Oil Filtration Systems are used to continuously purify the rolling oil required for lubrication and cooling in a closed circuit and return it to the process in as-new quality. In the filtration process, the conductive dirt particles are removed from the rolling oil. This reduces the conductivity of the oil to such an extent that electrostatic charges and discharges can occur in the oil circulation system and in the mill stand, which in turn can cause fires.
The CONDUSENS is a sensor for online measurement of the electrical conductivity of poor conducting liquids: by measuring their conductivity, dielectric constant and temperature, the contamination of the rolling oils used in rolling, the risk of uncontrolled discharges and the resulting fire hazard are continuously determined.
Reduction of filter aids consumption
Extended filter cycle time
Adjustment of oil cleanliness
Monitoring "grip" of the rolling oil to increase the useful life of the rolls
Guarantee of highest strip quality
High measuring accuracy in the pS/m range
Excellent resolution of the measurement signal
Easy integration into existing automation systems
Connection to Achenbach OPTILINK® IoT platform
Low maintenance continuous operation
Retrofitting possible at any time
Contact us directly. Our team is available for you.
To move forward in a modern economy, we need to step up the speed together.